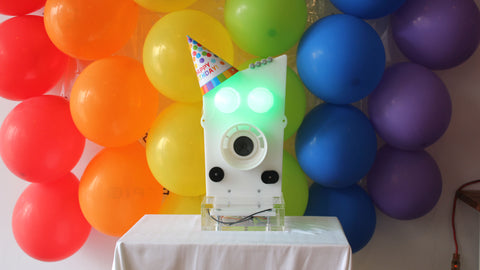 Celebrate with Little Robot Friends!
birthdays 
•

celebrations 

•

 milestones

Extend your child's boundless creativity by hosting your next celebration at our

Little Robot Friends 

Danforth HQ! Whether it's a birthday, special occasion, or milestone, you can make it extra special with some maker magic. Just bring yourself, your friends, and some yummy treats - we'll take care of the rest. 
What's Included
Our classroom space, decorated with a theme of your choice 

A 1.5 to 2 hour workshop activity, where we will embark on an epic exploration of coding games or animations, PaperBot-building, or 3D design and printing - see below for our workshop options!

Time for presents, food, and/or an optional side activity, if you choose to bring one - food, presents, and side activities are the responsibility of parents or caregivers
After the party, guests will 
be able to take their finished projects home, with a guide on how to explore the new technologies learned on their own time. 
Interested in post-party gift bags for extended fun? 
Email us at hello@littlerobotfriends.com to inquire about our STEM gift bag
bundles, perfect for party favours!  
Key Details
Price: $300.00 (before taxes)
Event Length: Maximum 3 hours ($30/extra half-hour)
Guest List: Up to 12 guests, including the party person ($20/extra guest)
Based on your answers in our Google form, you will be billed for any extra half-hour/guest charges in an separate invoice. 
Our Booking Availability (2023/2024)
Saturdays | 2-5pm

Sundays | 11-5pm

Availability is subject to change without notice.
3D Design and Printing using TinkerCAD
Ages 8 to 12+
Party-goers will learn how to bring their digital creations to life through 3D printing & TinkerCAD, a free, child-friendly 3D design software. From necklace charms to toys to tools, the possibilities are endless!
Finished designs will take up to a week to complete, and can be picked up at a seperate date at our HQ on 1832 Danforth Ave.
Crafting and Electronics with our Paperbot
Ages 6 to 12+
Make your own paper robot with eyes that light up! Party-goers will explore how to make a simple electronc circuit using conductive tape, LEDs, and a coin cell battery. Paperbot can be designed as anything or anyone you want - the only limit is your imagination!
Interactive Stories and Game Design with Scratch
Ages 6 to 12+
Does your child love the internet, puzzles, or creating make-believe worlds? Our video game programming workshops will spark their curiosity - for novices and experts alike!
Party-goers will explore chracter movement, gameplay mechanics, and graphic design. At the end, they get to access & edit their game or story at home, and show it off to friends and family!
More Workshops Coming Soon...
We're always brewing up new ideas - check back on this page for updates, or follow our newsletter (scroll down to the bottom of this site!).
Ready to Pick a Timeslot?
Step 1: Click "Register Now", and fill in our registration form as a host.
Step 2: Wait for an email confirmation from us - if your preferred timeslot is available, you will receive a payment link as well.
Step 3: Send the same form to your guests to RSVP for your party!