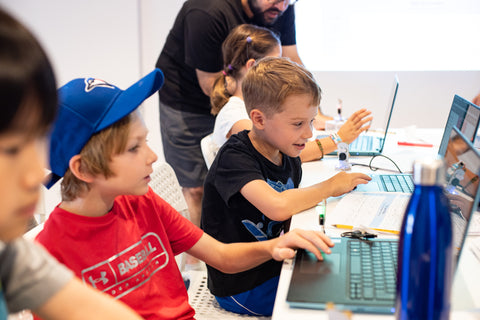 Coding Club - A STEM-based community for curious kids
Does your child have boundless imagination? Are they constantly asking questions about how things work? Does their knack for story-telling weave into every new experience?
Building Confidence and Skills
At Little Robot Friends we set out to build an environment where creative kids can learn the tools and techniques to bring their wild ideas into reality. Our focus is on quality mentorship where we can:
build confidence
develop new digital and hands-on skills
encourage collaboration and idea sharing
foster a compassionate and empathetic environment
Our Coding Club meets weekly to work in small groups (1 instructor to every 5 kids) to learn about a variety of 21st century skills such as:
Coding (both block-based on typing-based)
Electronics
Basic Robotics
3D Design & Printing
Graphic Design
Video Game Design
Interactivity
Virtual Worlds (coming soon)
Electronic Textiles (coming soon)
Video Production (coming soon)
Club Levels
Students are divided into four levels depending on their age and familiarity:
Pico (ages 6-7)
Nano (ages 7-10)
Micro (ages 9-12)
Mega (ages 10+, coming 2023)
Pico (ages 6-7) groups have little experience with coding or computers and need to learn some of the basic skills such as typing, exploring the computer, basic introduction to circuits, and more. We introduce all the various ways digital skills can be used to explore their creativity.
Nano (ages 7-10) groups have either completed our Pico level, or are already familiar with computers and coding. They aren't experts, but have a sense of what the tools do and how they could be used. We start to introduce how they can combine skills to create bigger ideas.
Micro (ages 9-12) groups have typically completed a Nano level, or have a developed understanding of computers and coding. They want to take their knowledge to the next-level by learning new coding languages and more advanced programs and skills.
Mega (ages 10+, coming 2023) groups have outgrown the other levels and are ready for big world challenges. This group focuses more on larger and more complex projects that involve design, planning, and testing to create. Whether they work as a group or focus on their own wild ideas, they receive quality mentorship to explore their potential.
Program Location & Duration
All of our Coding Club programs run in full terms (12 weeks) or half terms (6 weeks) and individual sessions run between 60-90 minutes.
Sessions are run either in-person at our HQ (Danforth Ave, between Woodbine & Coxwell) or virtually using Zoom.